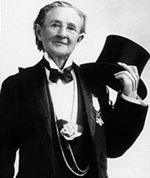 Didn't mean to publish yet! Had me an oh-no moment. I wanted to say to whomever happens to come across this post, try to look past the grainy black & white, Civil War-era photo in my previous post re:
Dr. Mary Edwards Walker,
who'd have turned 179 years old today if she hadn't died back in 1919 - not long after the close of
WWI,
just a few weeks after
Teddy Roosevelt
died, by the way], the somber, poignant expression and note how pretty "Dr. Mary" was. But the larger pic posted here definitely does. These smaller images of Dr. Walker,
Dress Reformer
,
taken later on in her long life, shows how bold and courageous she was, going about in her 19th century world, in trousers. When asked about them - even arrested for wearing them- Dr. Walker would boldly reply: "These are not men's clothes - they are MY clothes!"