So, okay, yes, I know that John Milton was an important English writer, but I haven't read anything he wrote since I was in college. What does he have to do with my life? Nothing of which I'm aware, but I know these words of his are true:
"The mind is its own place and in itself, can make a Heaven of Hell, a Hell of Heaven."
Yesterday was the anniversary of his birth, back in what would be a completely alien world, the English world of 1608. And 9 December marked the birthdays of computer wizard/U.S. Naval officer Grace Hopper, the sad hobo clown
Emmett Kelly,
and
Margaret Hamilton
, who played the W. Witch of the W. in the 1939 W. of Oz. Did you know that she came into the world at the time/space intersection of 9 Dec 1902/Cleveland, Ohio? Me neither. And look at her wonderful face. Doesn't Ms. Hamilton look like someone you would have wanted to know?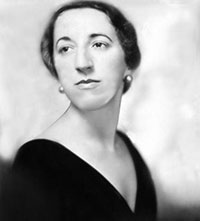 Margaret Hamilton
Now today, Monday, the 10th of December marks the anniversary of the birth, in 1907, in England, of one of my favorite writers. That'd be Rumer Godden. One of the most delightful children's books I ever read was penned by Rumer Godden, who wrote many a handsome book for grownups (In This House of Brede, for one. Black Narcissus, for another. Both made into swellegant, thoughtful films.) That'd be Miss Happiness and Miss Flower. What's it about? A lonely girl, drawn out of her homesickness by her empathy for "
two little Japanese dolls, only about five inches high. Their faces and hands were made of white plaster, their bodies of rag, which meant they could bow most beautifully - and Japanese people bow a great deal..."
Gosh, I cannot recommend it enough.
Happy birthday, Rumer Godden, even though you've been dead for years. Thanks for the books, still very much alive.