So, thanks to Christmas (and George Harrison's birthday in February), any 25th of any month is magical. But thanks to the workings of my mind - and the fact that I read These Happy Golden Years [I was a total Beatlemaniac as well] at least a dozen times, the knowledge that the 25th of August is Laura & Almanzo's wedding anniversary absolutely sticks in my mind. They'd be celebrating their 117th today, dozing at the old folks' home, i.e. God's waiting room or in the ICU so thanks be to all that's holy, Mr. & Mrs. A. J. Wilder of Mansfield, MO - Manly & Bessie to their many friends - got their tickets punched years ago. And for all I know the two of them got reincarnated before I ever hit junior high. Wherever they are off in the Blue Beyond or back again in this Vale of Tears in other guises - or merely sleeping [dreaming?] in their graves, bless 'em forever.
If you are off in heaven, dear Laura & Almanzo, whose stories saw me through my bizwang childhood, I know you'll be gracious welcoming Neil Armstrong into the afterlife. Only fitting that the space ranger would pass through Portal No. 25.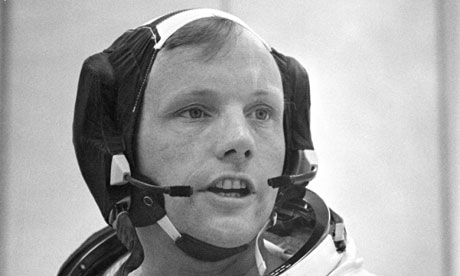 It's magic.
To think that that shy man had to go through all the rest of his life w/ people like me, wanting to tell him their memories of his - and Buzz Aldrin's - big day. So I was lying in the back of my folks' station wagon w/ a bunch o' little brothers, listening to the moon landing on the radio. Big deal.
Yes, well, fine. It was a seriously big deal. I hope Laura & Almanzo and all the other dear departed got to hear about it. But then again - think what they all have seen, off on the other side.