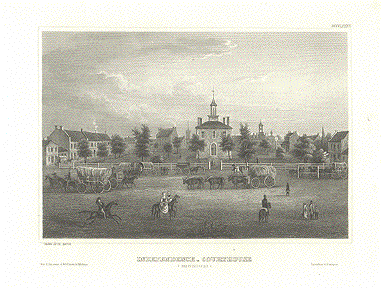 When we were 11 or 12, my cousin Myrna and I used to walk up to the shops surrounding the old Jackson County Courthouse in the center of Independence, MO, our hometown. Not the courthouse pictured here, of course. No, we'd walk up to "the Square," where the library used to be so when I wrote my one
novel
, the one I've been serializing here lately on this blog, I had Carmen Cathcart walk up there, too.
Wanted to write about a girl like I'd been at 11 or 12, with a big, restless, messy family [if Hoarders had been on then, we could have been televized!] and more younger siblings than I would have had, had my parents consulted me. Oh well, anyway, it's a long time ago now and what I was going to say was that I walked up to the Square today on my own, to mail a pkg at the sad, grey, understaffed post office. I love walking about this old familiar set of streets. Union. Delaware. Maple.
And I was going to note that it was 32 years ago today that we got word that one of my little brothers was killed, thanks to a too fast car and a too icy road and a too inebriated driver. Of course it's sad that he missed out on these past three decades or so of life, but it's not like I really knew him. It's sad that we missed out on knowing the older man he might have been, but then, he missed out on the anxious business of growing old, of seeing how the Square and the nation have changed, not so much entirely for the better. Life is a curious business, no?