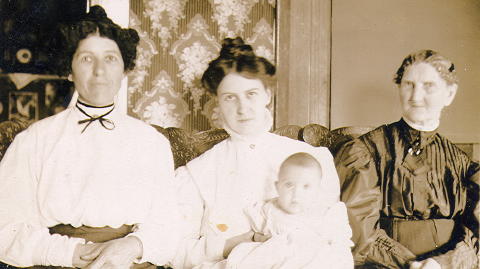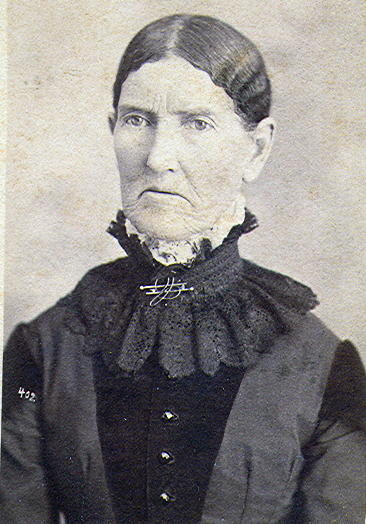 Oh my gosh!
Even if nobody EVER looks at this cockamamie blog of mine, I am so thrilled to have begun posting these
Women's History Month
deals. If I hadn't, never would I have come across these photos here, said to be - am I right? from a forthcoming 2nd edition of the
Blackledges in America,
thanks to a total stranger/distant relative
Mike Blackledge.
whom I very much hope to meet one day and personally thank.
I sat down here this morning to write about my valiant, learned
Aunt Ruth Alice Brown Scott
and her kid sister/my cheerful, smart, hard-working grandmother,
Eulah Claire Brown Wolfe,
because, though she's been gone for years now, it's
still
her 119th birthday today even though she passed on years ago and what did I find?
Photographs
I'd NEVER, ever seen before, such as the image above of [left to right]
Emma Zetta Blackledge Brown
[my great-grandma]
Etta Susan Brown Sloan
[Emma's eldest daughter - look how pretty she was! I'd only ever seen old lady photos of her, which confirms my belief that as we get older we should wear photo buttons on our lapels, w/images of our formerly young selves.], and Etta's girl baby,
Maurine Virginia
[ooh baybee, I've got some photos of "Maurine" as she grew up so beautifully.] AND AND AND, Emma's mom, my great-great grandmother,
Susan Crispen Blackledge,
my great-great-grandmother, born in the year that Andrew Jackson was elected.
Wow!
Here she is too, a bit older and looking rather dour.
And look at this - shoot, I feel like I need to go breathe
into a paper sack! This is my great-grandma,
Emma Blackledge Brown
, who once planted
white
lilacs by her house (torn down years ago, from which I have a handful of square nails) on
4th Street in
Cameron, MO
.... NEVER have I seen a photograph of Ms. Emma when she was a
young lady, her hair beautifully curled, adorned with a handsome comb.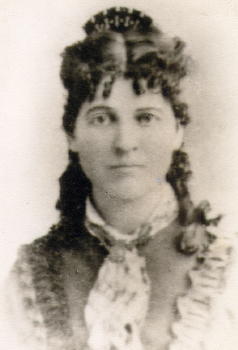 And HERE is a photo of Emma's girls. At the top right: my grandma,
Eulah.
standing by her big sister,
Etta Susan.
Middle row:
Ruth Alice
and
Neva Rose.
Then little
Maurine.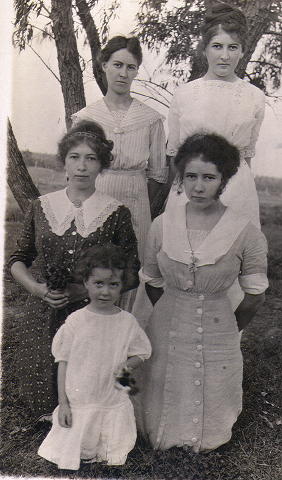 Anyway, what I was going to write this morning, before being gobsmacked by my discovery, H
ere is what I know about my grandmother and my great-Aunt Ruth
:
• They were devoted sisters & friends, two of the five Brown sisters: Etta, Florence, Ruth, Eulah, and Neva. There were a pair of brothers, too: Roy & Charley.
• Ruthie & Eula traveled together and sent newspaper clippings to one another, as we forward items via email. Each gave birth to two daughter & a son. Alas, Ruth's husband John Scott was still a young man when he fell ill and died.
And you know, just because a woman has to raise and support children on her own - in Ruthie's case, as a classroom teacher - is a common thing, an oft-told tale, this makes it no less valiant.
• Eula went to business school, down in Oklahoma, as I recall. Became a 'typewriter girl.'
In fact, long after she married redheaded Harley Wolfe in the summer of 1919, after he came home from 'Over There,' Grandma ran a business from a big office desk set up in her parlor: typing clean, carbon-paper-copied manuscripts for authors. Found her ad once in an old Writer's Digest. Later on, I'd have a drawing board set up in MY parlor - my upstairs studio now. Hmmm. Speaking of which, I need to get back to it, as soon as I make a few excited phone calls to some relatives.
p.s. for some reason, this post is coming up bizwang & weewad, word-wise, but you'll get the drift.